The CCI Mil-Spec No. 35/50 Cal BMG primer provides the most reliable, consistent ignition. It's built to military specifications and specifically designed for use in 50 BMG. CCI Primers are continuously tested and improved. As a result, today's CCI primers are more sensitive, easier to seat, and more compatible with progressive and automated loading equipment than ever before. They utilize modern non-corrosive and non-mercuric initiator mixes for the cleanest burn possible.
CCI 35 primers
Smokeless Powder, Black Powder, Primers, and Fuse's ship from our warehouse with other products. This ensures no more than one Shipping Charge and one HazMat Charge per order (unless you also order products that Ship Separately from Power Reloads or our Suppliers). Each order is limited to no more than 25 pounds of Black Powder, and no more than 66 pounds each of Smokeless Powder, Primers, or Fuse. Smokeless Powder, Black Powder, Primers, and Fuses are considered hazardous materials, incur HazMat Charges, and can only ship ground freight within the continental U.S. Due to safety considerations and legal/regulatory reasons, Smokeless Powder, Black Powder, Primers, and Fuses cannot be returned
CCI 35 primers
These CCI 50 Caliber BMG Primers are modern MIL-SPEC primers for the 50 caliber BMG cartridge..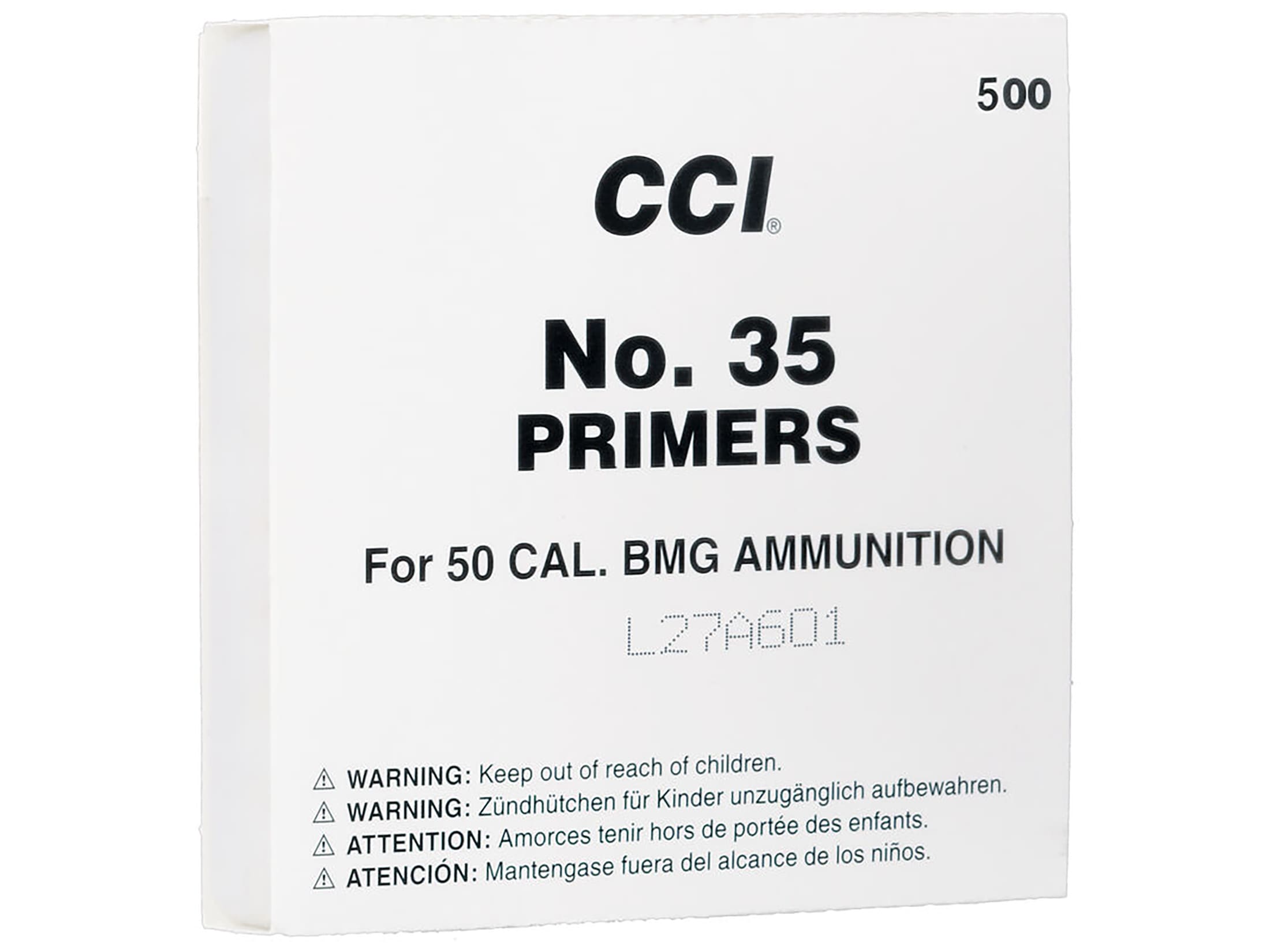 The massive 50 caliber BMG cartridge has successfully made the move to the sporting arena as a long-range target cartridge. Surplus cases and bullets are relatively plentiful, but the big primer was harder to find. Once again, CCI came to the rescue. CCI's No. 35 is designed expressly for the 50 BMG and gives the power needed to ignite the massive propellant charges this cartridge requires.
Modern non-corrosive, non-mercuric priming mix
Engineered for the standard 50 BMG primer pocket
The brass primer cup matches the look of original military primers
100 per box
Specifically designed for loading 50 BMG
Built to military specifications
Provides extremely reliable, consistent ignition
CCI logo
Made In the United States of America
warning-icon WARNING: This product can expose you to Lead, which is known to the State of California to cause cancer and birth defects, or other reproductive harm. For more information go to – www.P65Warnings.ca.gov.
Specifications
Product Information
Quantity Please select
Primer Size
50 BMG
Country of Origin
United States of America
Delivery Information
Shipping Weight 1.990 Pounds – 10.110 Pounds
DOT-Regulated Yes
Carrier Restrictions
Cannot ship via air
Cannot ship via USPS
Cannot ship to PO Box
Must ship to the Contiguous US.