CCI 5500  Primers are evaluated and refined throughout time. Since they are now more compatible with progressive and automated loading equipment than ever before, CCI primers are more sensitive and simple to seat. For the cleanest burn possible, they use contemporary non-corrosive and non-mercuric initiator blends. These primers are the ones that are "bread-and-butter" for reloading; they are frequently specified in reloading recipes. The remarkable clean-burning properties of CCI standard primers allow for longer intervals between pocket cleaning and cleaner primer pockets. That offers progressive reloaders a significant advantage. They are designed for smooth feeding in automated equipment and are more sensitive and simpler to seat than earlier CCI primers. available in boxes of 1000 or 5000 counts.
CCI 500
Certain shooting situations in the real world call for a more forceful start than what is offered by ordinary primers. A higher primer flame and a longer burn time are frequently required by large cases, cold conditions, and certain propellants. You receive that advantage with CCI Magnum primers in addition to all the qualities that make CCI primers so wonderful.
CCI 500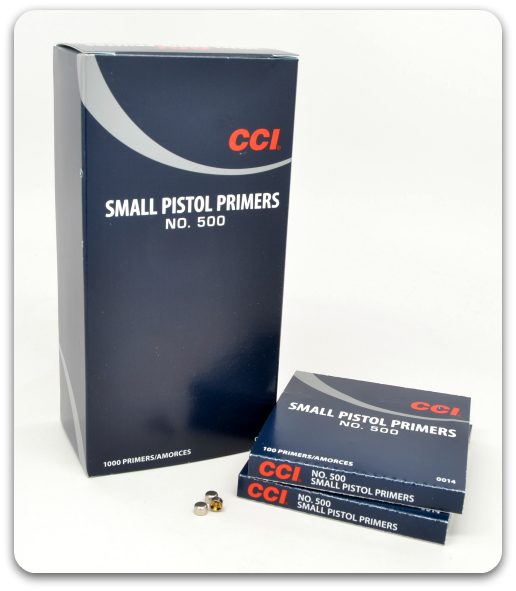 They employ non-corrosive, non-mercuric initiator mixtures for the cleanest burn. These are the primers that are most frequently used in reloading recipes. Longer pocket cleaning durations are possible because to the extraordinarily clean burning of CCI standard primers. For progressive reloaders, that's a major thing. They are more sensitive and simple to seat than earlier CCI primers, and they are designed for automated feeding. There are boxes with 1000 or 5000 counts available.
| | |
| --- | --- |
| Condition | New in Box |
| Manufacturer Part Number | 14 |
| Model | Small Pistol Primer |
| Type | Reloading |
| UPC | 076683000149 |