cci small rifle primers In a Benchrest competition, a group cannot be deemed "too small." To achieve results that win matches, everything must be finely calibrated. For this reason, you ought to utilize CCI Benchrest primers. The priming mix is only placed in the cups by the most knowledgeable and professional workers, ensuring that every shot produces the identical flame. For extra uniformity, Benchrest Primers also employ specifically chosen anvils and cups. The usage of CCI Benchrest primers was one of two variables that an independent study determined to be the most important contributors to small groupings. CCI Primers are evaluated and refined throughout time. Since they are now more compatible with progressive and automated loading equipment than ever before, CCI primers are more sensitive and simple to seat. For the cleanest burn possible, they use contemporary non-corrosive and non-mercuric initiator blends..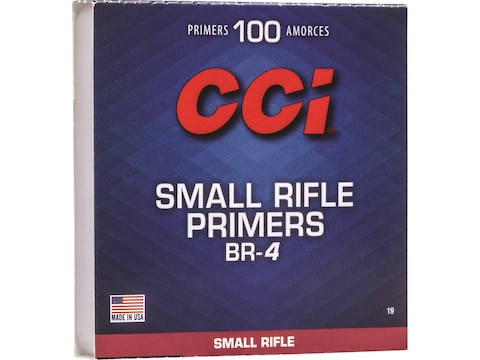 There is no such thing as a "too small" group in a bench rest competition. To get results that win games, everything needs to be exceedingly fine-tuned. We make CCI Benchrest primers as a result. Only our most knowledgeable employees put the priming mix in the cups, ensuring that you get the identical flame blast every time. We use anvils and cups that have been carefully selected to enhance uniformity. One of the two principal CCI Benchrest primer applications was contributors to small groupings, according to an independent researcher. Not much more can we really add to it!
warning-icon WARNING: This product can expose you to Lead, which is known to the State of California to cause cancer and birth defects or other reproductive harm. For more information go to – www.P65Warnings.ca.gov.
Specifications
Product Information
Quantity
1000 Piece
Primer Size
Small Rifle