This spherical propellant was developed particularly for the 300 Remington AAC Blackout cartridge and meters incredibly precisely.
CFE BLK contains our Copper Fouling Eraser component, which was developed for military propellant and significantly eliminates copper fouling, allowing for longer periods of peak accuracy with less barrel cleaning time.
.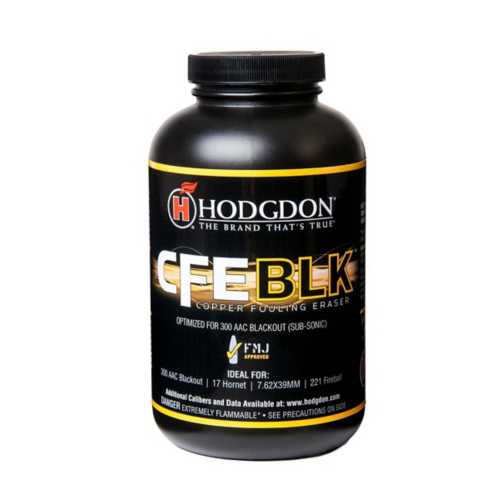 It is effective in modern sporting rifles with a wide variety of bullet weights and is suited for subsonic loads. It works well with a number of lesser capacity cartridges, including the 17 Hornet, 17 Ackley Hornet, 218 Bee, 221 Fireball, and many more, in addition to the 300 Blackout. It also works well with 6.8 Remington SPC and 7.62X39 mm Russian cartridges.
Hodgdon CFE BLK
is a spherical powder that was initially designed for 300 Blackout subsonic loads. This outstanding rifle propellant employs the Hodgdon CFE formula, Copper Fouling Eraser, which nearly eliminates copper fouling while also providing clean burning and low muzzle flash. CFE BLK delivers optimal performance in cartridges like as the 300 AAC Blackout, 17 Hornet, 221 Fireball, 6.8 Remington SPC, and 7.62x39mm for competitive shooters and hand loaders looking for the right powder for target or self-defense loads.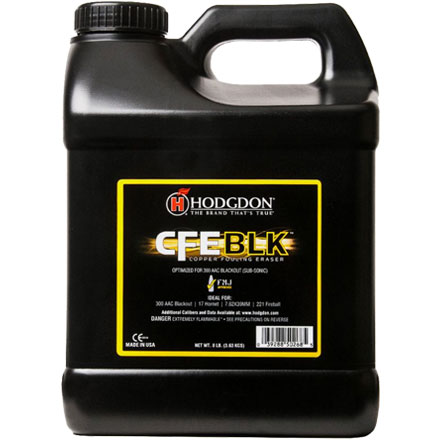 This novel spherical propellant was created exclusively for the 300 Remington AAC Blackout cartridge. It enables AR-style rifles to function correctly over the bullet's weight range and is perfect for subsonic decreased loads. It operates brilliantly with several lower capacity cartridges, notably the 300 Blackout. varmint specialities like as the 17 Hornet, 17 Ackley Hornet, 218 Bee, 221 Fireball, and many others. It also works well in the 6.8 Remington SPC and 7.62X39 MM Russian cartridges. This fine powder meters like a dream and leaves no copper residue, enhancing accuracy for longer periods of shooting and allowing for quick and easy clean-up. It's a genuinely incredible new propellant!
Caution with Smokeless Powder:
Do not exceed the load restrictions mentioned in the reloading manual.
Never mix two powders, regardless of type, brand, or source.
Never use a smokeless powder as a replacement or substitute for black powder.