Shooters World Blackout D063-02 Smokeless Gun Powder is ideal for pistol and rifle cartridges with a virtually straight-walled wall, according to ballistic testing.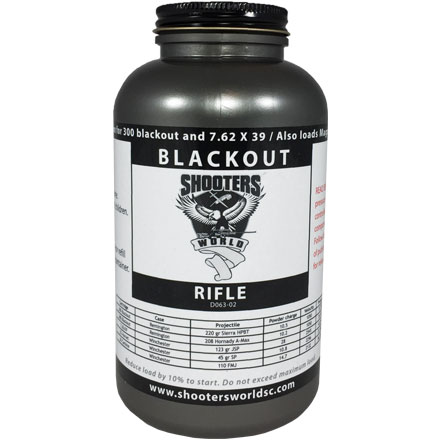 D063-02 Propellant
The rate of propellant gas generation is appropriate for cartridges such as the.300 Blackout, 7.62×39,.30-30,.22 Hornet, and many other lever-action pistol and rifle cartridges that require a quick transition from powder to gas. It burns at a pace equivalent to Accurate 1680.
This propellant is intended to be used with a variety of heavy rounds in the.300 Blackout subsonic caliber. Cycling in AR systems is ensured by the combination of charge weight, geometry, and chemistry, which is especially beneficial for 200+ grain bullets. The.300 Blackout can fire smaller supersonic rounds while being built for larger projectiles. Loaders, on the other side, outperform supersonic projectiles when employing SOCOM. It's a spherical propellant that meters well through charge plates and flows well in a fast loader. The propellant contains a little quantity of flash suppression.
Another advantage of Shooters World propellants is their proven track record. Shooter's World has been producing propellants since 1920. Many of these propellants are offered under the Lovex brand across Europe. Blackout has a density of around 1 gram/cc. It has a flash suppressor level. When using a progressive loader, its spherical form ensures exceptionally consistent powder drops. This propellant is known as D063 under the Lovex brand.