The same premium components and optimal ignition that make Federal Premium® Gold Medal cartridges the preferred choice of match shooters worldwide are provided by the Federal Rifle Match Primer Large Gold Medal® primers, which are produced to precise specifications.
If you often reload, you need parts that work every time. To fulfill your demands, Federal provides a complete variety of primers and wads. For the finest performance from your loads, Gold Medal primers are produced with precise tolerances.
Federal Premium Gold Medal Match Primers
Match primers made by Federal Premium® Gold Medal® enable incredibly consistent ignition for winning shooting competitions and perfect operation in semi-automatic weapons. To equip shooters with reliable, high-quality ammunition, Federal manufactures the Gold Medal line of parts and ammunition under tight quality control and tolerances. To achieve comparable velocity with higher precision, reloaders utilize Gold Medal Match Primers with the same reloading data as normal (non-magnum) primers.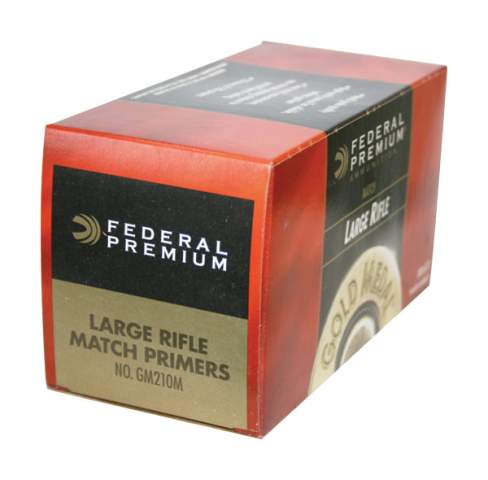 Deliver exceedingly consistent ignition
Function flawlessly in semi-auto firearms
Manufactured to exacting tolerances
Use with same data as standard primers